This complete fully accredited online baby massage training course is designed for individuals who don't have the time to travel or spend a whole day away from home.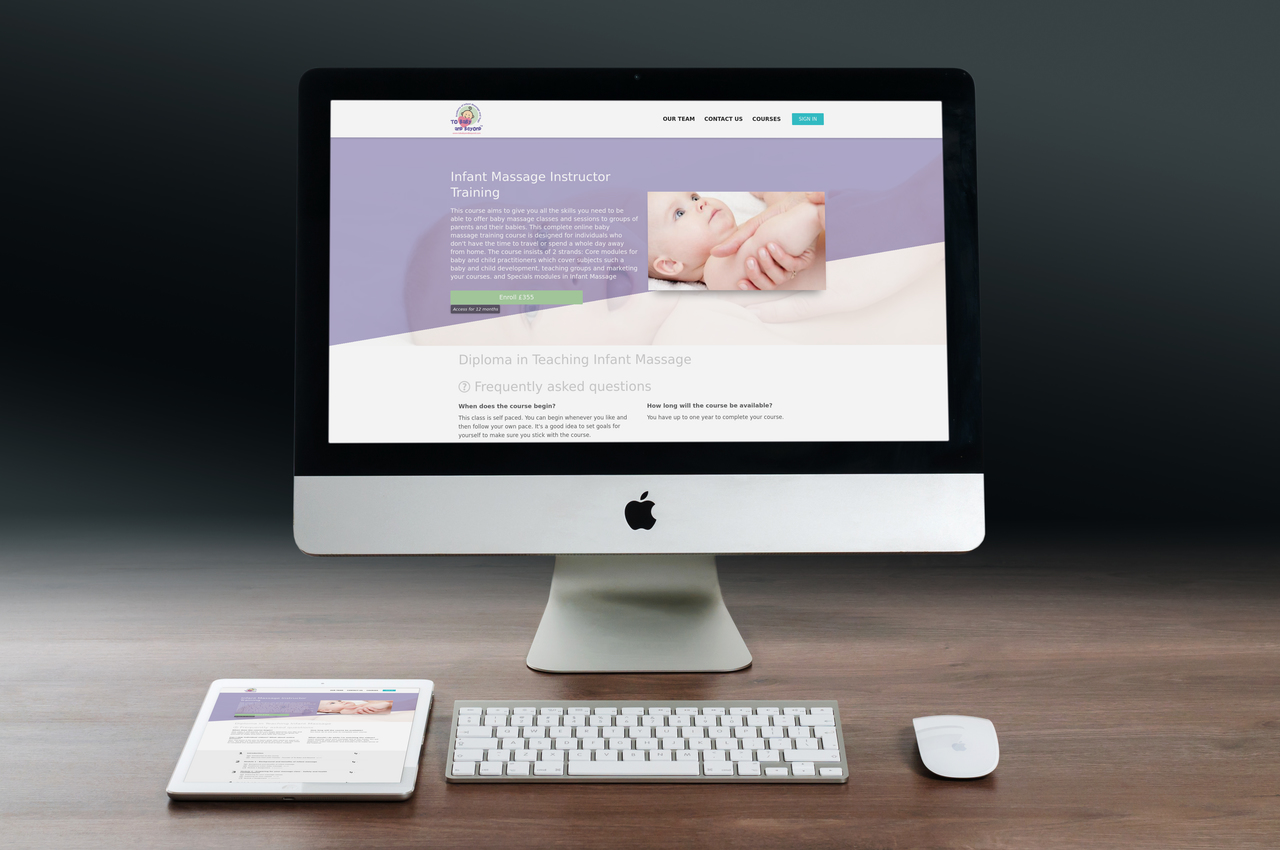 Diploma in Teaching Infant Massage - Distance Learning Option - £355pp
Please click here to START TRAINING AS AN INFANT MASSAGE INSTRUCTOR NOW VIA DISTANCE LEARNING
All you'll need is a computer or tablet, internet connection and webcam/ phone cam so you can learn exactly the same content as a face to face course via online demonstrations and email support.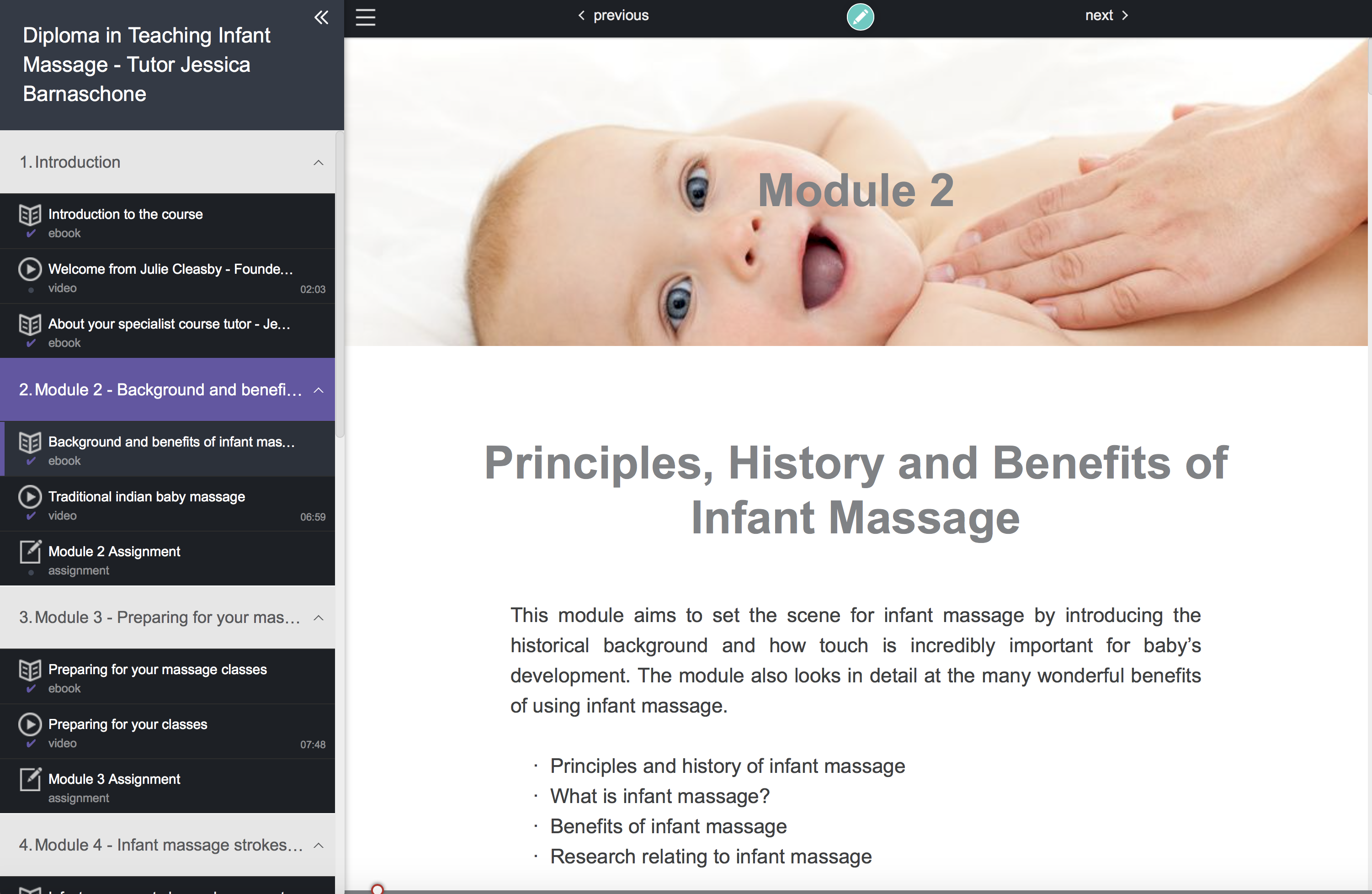 During the infant massage instructor distance learning course you will be allocated a dedicated tutor who will support you through the course and assess you work. You will be able to login to our online learning platform from your computer, tablet or phone and submit all course modules via this directly to your course tutor. Post-course case studies will be undertaken towards the end of the course.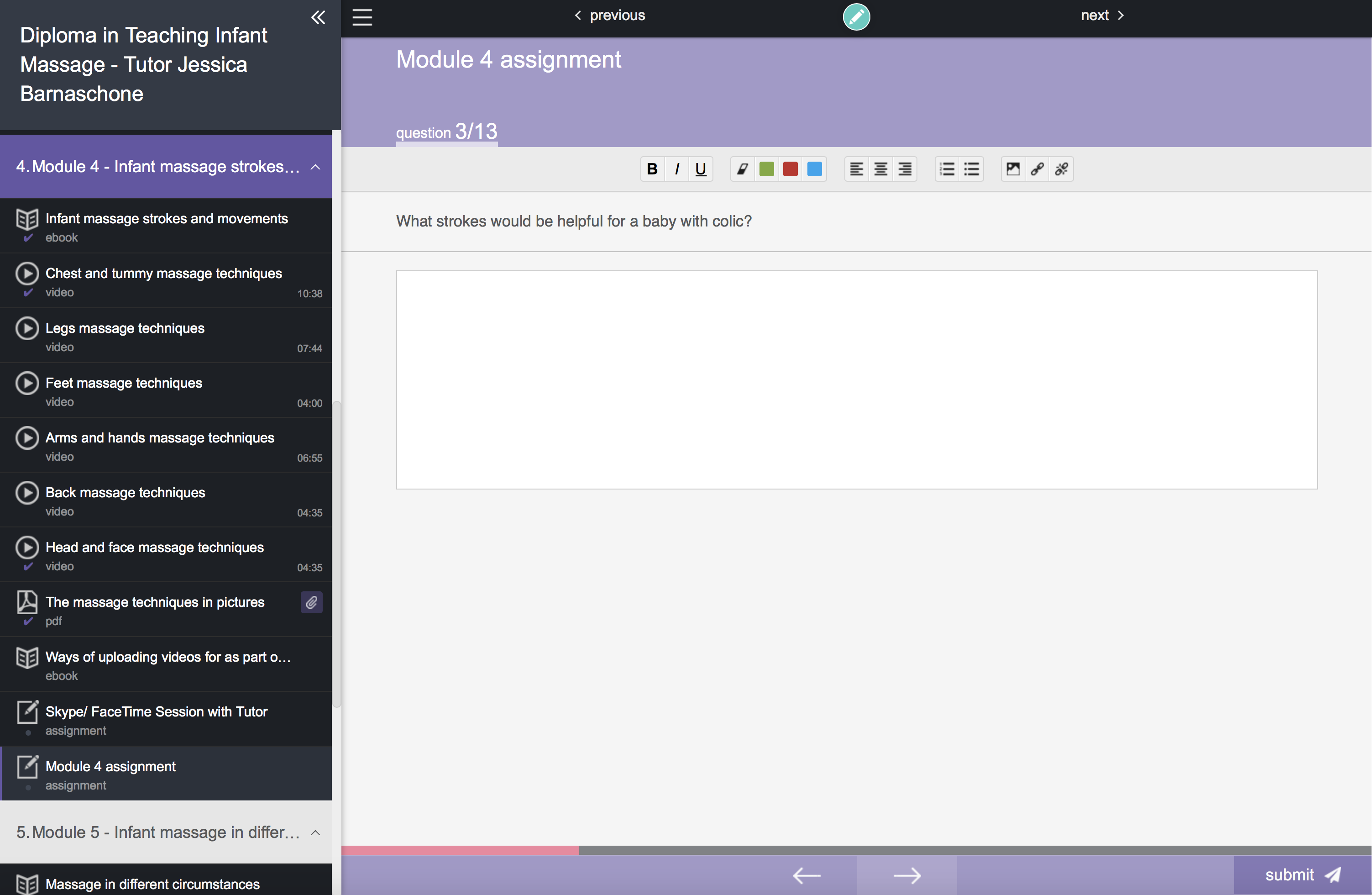 As part of this course you will need to complete case studies with parents and babies.
This course is completed at your own pace and in your own time. You have up to 1 year to complete the course.
Worried that the distance learning may take too long? We now offer a Fast Track option.
Often students are concerned about how long a distance learning course will take to complete. The great thing is you work at your own pace in your own time. Our distance learning courses allow 1 year to compact all course work however some people complete much quicker than this.
We often have students who wish to compete distance learning courses in much less time. For this reason we now offer or Distance Learning Fast Track option. This is great for students who perhaps have a little more time, need to complete the course ASAP and like to be kept on track.
If you have chosen the Fast Track option, you will have access to all the modules in once go. Fast track students are required to complete ALL theoretical modules within 3 weeks following this you can then start your case studies. We agree to mark all modules submitted within 2 working days in the Fast Track system. This means you could complete the whole course in as little as 4-8 weeks. Please note there is an additional fee for this.
As this learn to teach baby massage course is insured by Care-Sure, Yoga-Link and Westminster Indemnity it carries just as much weight as our face to face equivalent.
This course has also recently be CPD accredited by the CPD Standards Office.
The price for this course is £355pp incl. VAT.
Fast track is £405pp incl. VAT
Please click here to START TRAINING AS AN INFANT MASSAGE INSTRUCTOR NOW VIA DISTANCE LEARNING
We do offer payment plans where the course fee back be paid in 3 instalments . Admin fee applies. Please note we are unable to offer a payment plan on FAST TRACK.
Did you know we also offer Tummy Time instructor training?
This is great add on to your infant massage or baby yoga training or for your nursery and childcare practitioners. Please click here for more information.
Got questions? Give us a call or send us an email or check out our FAQ's distance learning page.
If you think that the distance learning infant massage instructor course is the right choice for you then please fill out our contact us form or just give us a ring on: 01273 702 496 for an informal chat.
Alternatively, you might like to know more about our instructor diploma or certificate in using infant massage in childcare settings.
What next? Further info, dates and bookings »
Approved/recognised by::
---
---
Bold text>The course was interesting and informative and by the end I felt confident and well equipped to begin teaching my own classes. As a busy mum, it is so fantastic to be able to gain a qualification online, at my own pace without the worry of childcare, commuting to a venue etc...The support I received from Julie and Jessica was fantastic, they responded so promptly to emails and any questions I had. I would highly recommend this course.
Infant massage distance learning student, November 2020

The videos were fantastic, it was great to see Julie demonstrate the strokes and hear her explain things as she would do in a class setting with parents. The video assignments and the lesson planning assignments were also invaluable for learning. I felt confident and prepared to complete my case studies after I completed these assignments.
Infant massage distance learning student, November 2020

I completed my distance learning course in baby massage earlier this year and enjoyed it very much. All modules received via Dropbox was detailed and structured .questions at the end of each module are clear about what info to include in your answers. Julie is fantastic tutor and highly recommend To Baby and Beyond . Extremely quick responses to calls and emails. Brilliant support given throughout the course and the case studies in module 7/8 . The use of Dropbox for uploading completed modules is simple soon as you have completed module 1 and got the hang of how it works. Cannot fault tutor or course at all... I will be doing baby yoga beginning of next year with To Baby and Beyond

Jodie
Distance Learning Student 2014