Anyone who has ever experienced the positive effects of massage will immediately recognise the benefits that can be transferred to infants. From relaxing and calming to bonding and relieving ailments, infant massage is a wonderful tool to have in your nursery and childcare training locker.
Start training online for only £149
Undertaking a certificate in using infant massage will enable you to help young babies experience the well-being properties of massage as well encouraging bonding, which is why baby massage for nurseries and baby massage for nannies and maternity nurses is such a great idea.
Below is a brief outline as to what our certificate in using infant massage in childcare settings entails and if you have any further questions then please contact us today.
What's the aim of the course?
Our main aim is to provide nursery staff and childcarers such as nannies and maternity nurses with the basic knowledge and understanding of infant massage so they can then safely practice basic infant massage sessions with babies under their care after prior consent from parents.
Will I be qualified to teach parents to massage their babies after taking this course?
No, this course aims to teach you basic infant massage techniques to use with babies in your care with the consent of the parents. If you want to be able to teach individual or groups of parents you would need to qualify as an infant massage instructor. Information on our infant massage instructor course can be found here.
How long does it run for?
We offer both face to face and distance learning options on this course.
Our face to face course on baby massage for nurseries and childcarers course runs for just over 3.5 hours.
Our distance learning course has 5 modules and students have up to 4 months to complete it - however many complete this much more quickly than this.
Start training online for only £149
Who is it suitable for?
Nursery staff, child minders, nannies, maternity nurses, residential unit carers, foster carers and anyone else working with young children.
What does the course cover?
Principles and history of infant massage
Baby benefits in relation to touch and massage
Infant massage and consent
When not to massage – safety aspects
Safe use of oils
Preparing for massage
Beginning the massage
A full body massage
Specific uses of massage
The tummy routine
How does the distance learning course work?
The online course consists of 5 theoretical and practical modules covering exactly the same content as our face to face course option. Once you have booked you will be sent an invite to join your course on our online learning academy which can be accessed from your smartphone, tablet or laptop. Our experienced infant massage tutors will be overviewing your work along the way.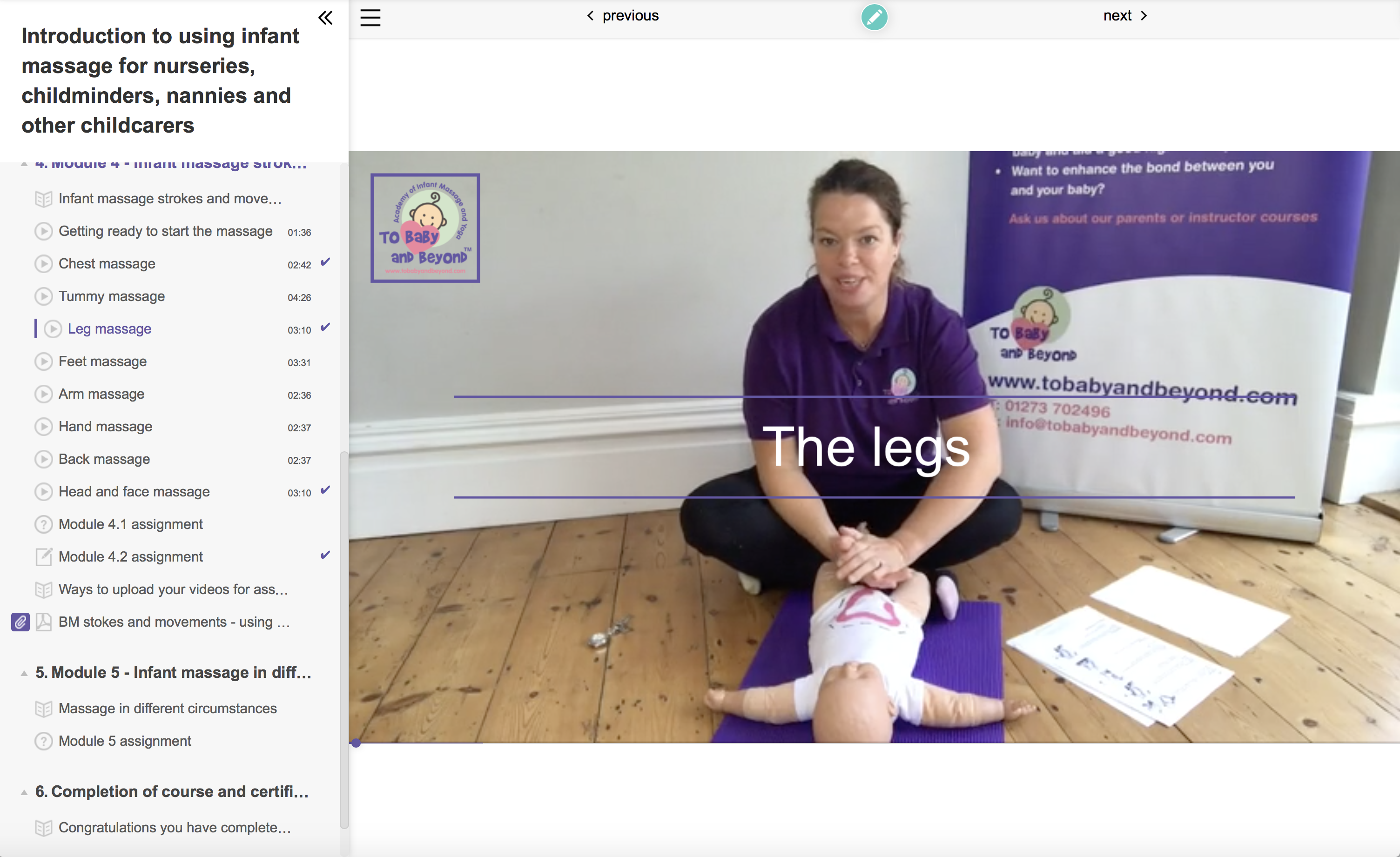 How is the distance learning course assessed?
Each module has an assignment of a Q and A paper. There is are also practical video demonstrations which you can watch, practice, pause an replay to enhance your learning. You will also be asked to submit a short video demonstration of part of the massage routine. One of our experienced tutors will review this and email you feedback.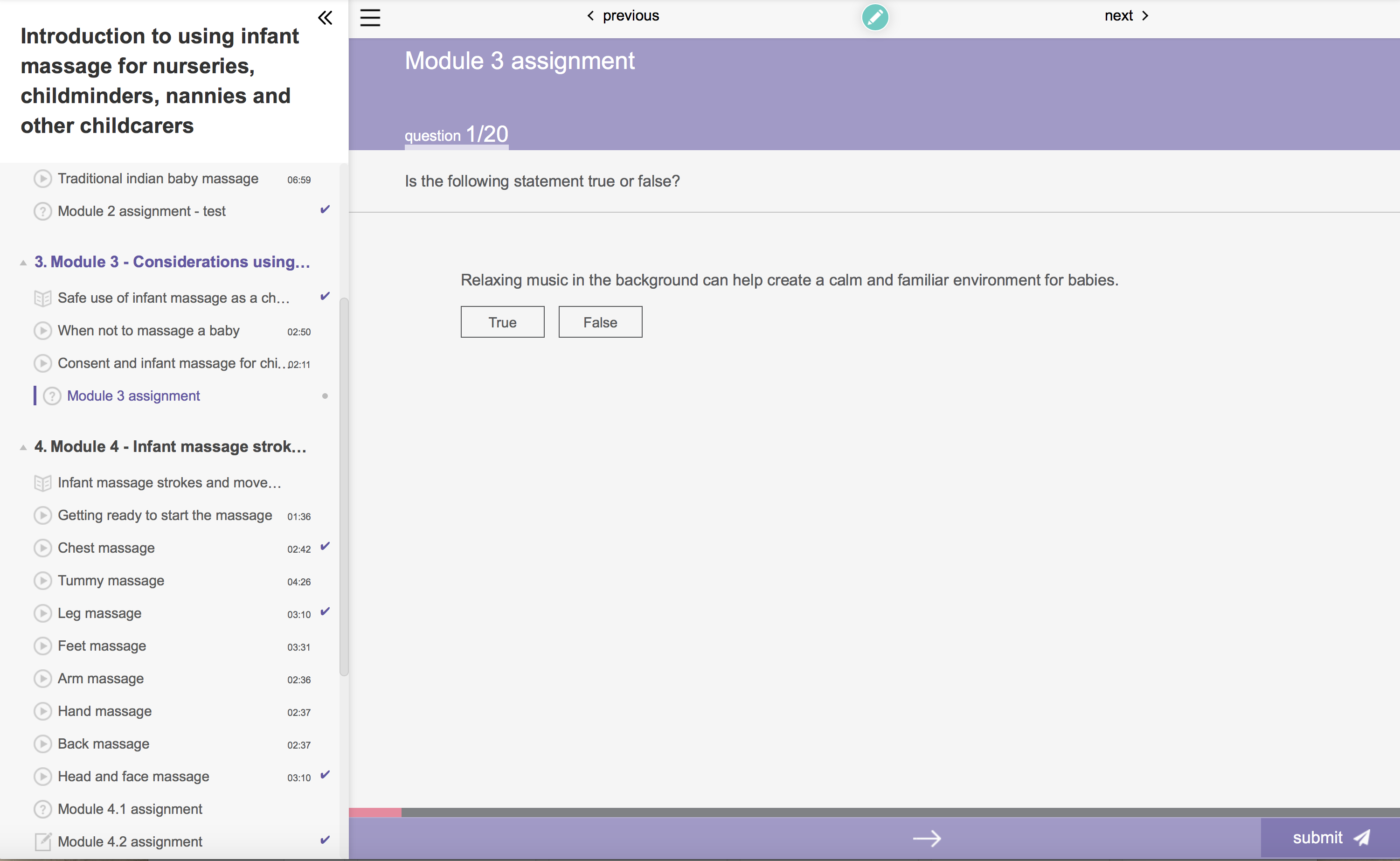 start training online for only £149
How long does the distance learning take to complete?
Each module takes around 1-2 hours to complete dependant on how quickly you learn and how much time you have. The great thing is with the online option is that you work at your own pace, in your own environment with our experts on hand by email should you need them. You have up to 4 months to complete the course.
What qualification do I get at the end?
You'll receive a 'Certificate in using infant massage in a childcare setting.'
Where are the face to face courses held?
This course can be run in your place of work within locations across the UK.
How much does it cost?
Distance learning - £149. Payment plan available.
Face to face at your place of work or over Zoom as a group : please get in touch for details price from £50pp
start training online for only £149. Please click here**
If you have any questions about this or any of the courses we offer, please contact us online or ring 01273 702 496 for more details.
What next? Further info, dates and bookings »
The Certificate in Using Infant Massage in Nurseries was well presented and really interesting. It gave a the staff the skills to use massage with the children. We were surprised how well the child responded to the supervised massage session.

Nursery Manager
Horsham, West Sussex